Customize a framework to fulfil your Restaurant needs
ikonnect Restaurant Management System (RMS) offers a simplified POS system for controlling and coordinating numerous operations in the entire food industry, additionally it can easily customized for use in any sort of food service establishment, which include fine/casual dining, bars/nightclubs, pizza operations and quick service operations. New items can be immediately included, messages which needs your staff attention are clearly highlighted in automatic alerts . You can print status reports, track the number of daily specials that are available. The set of reports provides in-depth insight into your restaurant's overall performance. The system is simple to adapt and can be easily integrated with third-party vendors such as SAP, Microsoft Dynamics.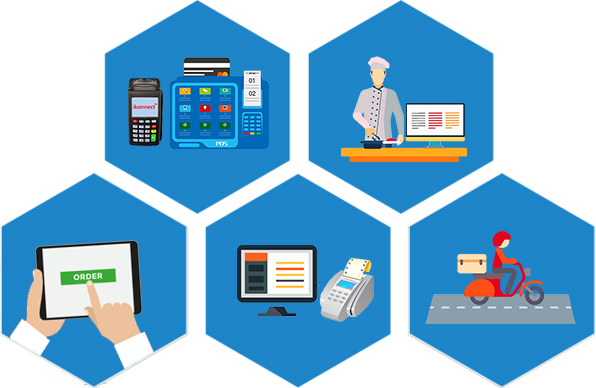 Integration With Market Leaders In ERP
ikonnectRMS handles wide varieties of task including restaurant billing, inventory management systems, payment management, table services, order management and many more. Customization of the restaurant software solution offers a POS System, ERP System and additional items like reliability control, CRM to improve store performance and increase efficiency for restaurant administration. Our restaurant management system is progressed yet simple to utilize. We offer all the tools necessary to understand restaurant operation in detail, giving the management total control of business and permit everyone in your operation to better serve your customers and accomplish the best use of your investment.
ikonnect RMS plays a key role with features like quick tab pre-authorizations, easy tab transfers and one touch next round ordering. Restaurant staff can utilize the Restaurant management system to enter orders and bills, allocate tables based on section streamline sustenance planning along with unique kitchen requests and to enhance billing accuracy and keep margins high. In addition, our reporting package provides real-time sales statistics, supply sales and a host of other sales related data, allowing you to spend more time running your business.